14th Annual Ramona Air Show Survives Fuel Crisis
Story and Photos by Frank Lorey III
<![if !supportEmptyParas]> <![endif]>
The Ramona Air Show managed to put on quite a show despite the extremely high fuel costs that are causing many airshows to cancel this year.  This was the 14th year for the show, which became an aerial event in 2003 after years of conducting static displays (along with a little incidental flying.)  Bo Donovan, Ramona Airport Manager, said "we watched figures, were careful with it, and decided to go.  A lot of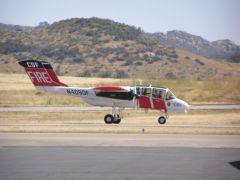 smaller shows are canceling."  This included the nearby "Wings Over Gillespie" show in El Cajon, which also went back over a dozen years.
The aerial displays were highlighted by the California Division of Forestry firefighting aircraft—the North American OV-10A Bronco spotter aircraft, formerly a military counter-insurgency and air support plane; the S-2 Tracker fire bombers, formerly military anti-submarine warfare planes, and the UH-1H Super Huey fast attack helicopter, formerly the famed Vietnam-era transport and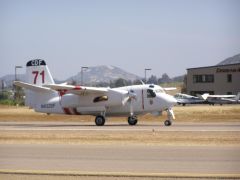 gunship.  All were acquired by the CDF from the Department of Defense.
Along the military theme, John Collver flew his World War II veteran North American SNJ Texan trainer "War Dog".  He has been staying busy with a lot of smaller airshows, but commented that with the fuel—"if you're a pilot, you're not doing so well."  The Red Star Pilots Association flew four ex-Chinese CJ-6A trainers in formation.  The Re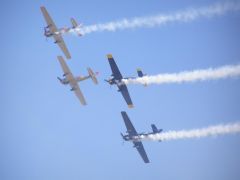 d Stars have many regionally-based teams, and fortunately this one is based at Ramona, so the fuel issue did not affect them as much.
Top civilian performers also included Jacquie Warda, known as "Jacquie Baby" with her beautiful Pitts Special biplane.  Based out of the San Francisco area, she is doing 16 airshows this year.  With the fuel, she said "We've got to fly—I just practice a little bit less.  Everybody is dealing with it, there's not enough fuel money, and it's worse for the guys who come in for static displays.  The airshows have to get more money or sponsors."  Warda added that "This year everybody is in the same boat, and it is a cautious place to be.  Shows are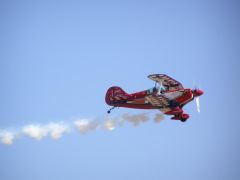 deciding what they can and can't do.  Travel expenses are down, so you have to write that into your show fee."
A newcomer to Ramona was Melissa Andrzejewki of Hayward, CA, flying an Edge 540.  She has been flying shows for 5 years, and this was her second for the 2008 season.  She is also a member of the U.S. Unlimited Aerobatic Team, and is concentrating more on this year's team tryouts.  Melissa was hooked on flying when her grandmother took her up and did rolls and loops.
"I decided to try and make money at it," she said, and added "I saw races—yep, I wanted to do that!  I like shows, but the Red Bull races may be the thing to do."  But Melissa is very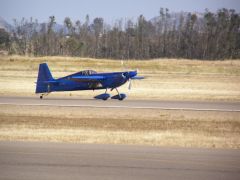 realistic—"The economy is a problem in general, airshows are not paying as much, there are fewer sponsored acts, and they want more free acts.  There are harder budgets."  With her talent for both shows and races, Melissa will be a survivor of the current fuel crisis.
The show was well-received by thousands in the crowd, with over 50 static display aircraft, airplane trading cards for the kids, a variety of foods, and fun for all that came out this year.  The show benefits the families of aerial firefighters who lost their lives during duty.