BLUE ANGELS RETURN TO MIRAMAR SHOW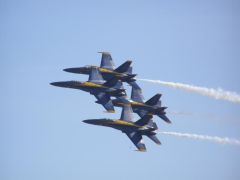 Story and Photos by Frank Lorey III
<![if !supportEmptyParas]> <![endif]>
The 2008 MCAS Miramar airshow thrilled over 600,000 fans this year as the Blue Angels F/A-18 Hornets returned after taking a year off.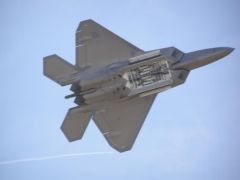 Last year the Air Force Thunderbirds made their first appearance at the largest military airshow in the world.
            While the Blue Angels were the main draw, this year also marked a major flight demonstration of the new F-22 Raptor.  This latest generation fighter-bomber lived up to all of the advance expectations.  Extremely short turn radius, low and high speed maneuverability, all done with less noise—the new jet just plain "wowed" the crowds.
            On the other extreme from the high speed jet aircraft was possibly the last airshow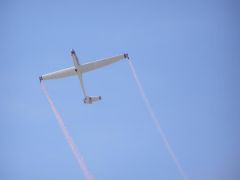 performance of Bret Willet's glider act.  He has been doing shows for 30 years, mostly on the West Coast, but he has ranged as far as Canada, Thailand, and New Zealand.  From a peak of 5-10 shows a year, he has dropped to only tow, but this year he decided to only do one—the Miramar show.  He is planning to devote most of his time to the glider training facility at Warner Springs, CA.
            While flying with Willet, the noise level behind the tow plane sounds just like any other flight.  When the towrope is released, it becomes silent.  Flying the glider is very addicting, and the lack of fuel cost worries is an added bonus!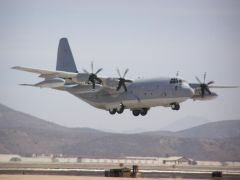 The MAGTF demo was again popular, demonstrating most the Marine hardware in a simulated battle scenario.  Using the F/A-18 Hornet, AV-8B Harrier, C-130 Hercules, and CH-53 Super Stallion, CH-46 Sea Knight, and UH-1 Huey helicopters, along with the M-1 Abrams tank and armored personnel carriers, it was not hard to imagine the situations played out in Iraq.
            A wide range of static displays were featured, including historical military aircraft—not only from the United States, but also British, Czech, Soviet, Chinese and other countries.  The large NATO AWACS early warning aircraft, an E-3A Sentry, amazed people, by far the largest aircraft on the tarmac.  The aircraft carries about 29 radar and command stations.  Vintage civilian planes, immaculately restored, also added to the show.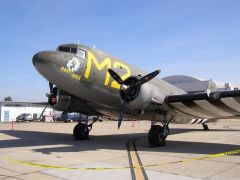 Other military flying demonstrations included the F-16 Fighting Falcon, the AV-8B Harrier, and Heritage flights featured prop aircraft from World War II such as the F4U Corsair and P-51 Mustang flying alongside modern jets such as the F/A-18 Hornet and F-22 Raptor.
            Civilian performed ranged from ever-popular Bill Reesman's Mig-17, John Collver's AT-6 Texan, wingwalkers, biplanes, and the Patriot's L-39 Soviet-block jet aircraft.  The weekend included Friday, Saturday, and Sunday daylight shows, and the Saturday evening show.  In the past, over 1 million people have attended over the three-day weekend event.