WEATHER UNCOOPERATIVE FOR MIRAMAR AIRSHOW
<![if !supportEmptyParas]> <![endif]>
Story and Photos by Frank Lorey
<![if !supportEmptyParas]> <![endif]>
            The 2007 airshow at MCAS Miramar was nearly grounded by early unseasonable weather for most of the three-day event.  Sun and blue skies only appeared later, on the final day of the show.  While there was not much actual rain, low clouds and poor visibility cancelled many performances due to safety reason.  Some performers that were already airborne were told to cut short their routines and land as soon as they ran into the low clouds—the ceiling was often only around 1000 feet.
            The big draw this year was NOT the Blue Angels after decades of being the main billing for the event.  The theme was "Thunderbirds Over Miramar-The Sound Of Freedom", and this year the Air Force Thunderbirds with their F-16 Fighting Falcons took over the top slot.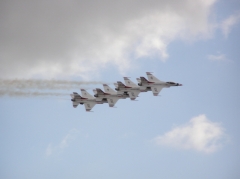 While the performances may have many similarities, the sight of the sleek red, white, and black fighters were a well-received change, even if temporary.
The Thunderbird flight demonstration team dates back to 1953, not quite as long a history as the Blue Angels.
            While the Thunderbirds were able to adapt their "low show" to the cloud cover, some performances were much more limited.  The MAGTF demonstration (Marine Air/Ground Task Force), probably the second most popular aerial and ground display each year, went on without the usual attack jet cover.  The Army Golden Knights Parachute Team had some performances cancelled, but managed to pull off the Saturday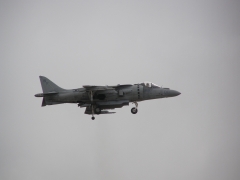 night jump.  Other military flight demonstrations by the AV-8B Harrier, F-16 Fighting Falcon, F/A-18 E/F Super Hornet, and F-15 Eagle went on as scheduled.  The F-117 Nighthawk stealth fighter-bomber was barely visible through the clouds.
            Civilian performers were most affected by the weather.  Bill Reesman's Mig-17F daytime performances were sometimes cancelled, and the night version "Red Bull Meteor" was brought down early due to the clouds.  The Patriots jet team, in their glossy black L-39 Albatross ex-Soviet imports, usually managed to get in their flights, as did the Red Baron Stearman Squadron.  Sean Tucker's Oracle Challenger, Jacquie Warda's Pitts S-1T, and Bret Willat's Sailplane Magic also were able to get aloft for aerobatics.
            Many unusual aircraft were on ground display this year, and some attracted a lot of attention.  Bob Stamborsky brought his early 1970's vintage British Provost military jet, one of perhaps twenty still flying.  Many people had their photos taken in front of a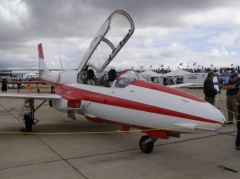 now-rare F-4 Phantom, the dominant fighter jet of the Vietnam War.  Another rare find was a Polish TS-11 Iskra, and World War II was represented by a polished F6F Hellcat.
            While the airshow was forced to scale back this year, attendance was still nearly 700,000 for the four shows, not bad considering the effects of Mother Nature.  Miramar still ranks as one of the most attended military airshows in the United States.  Hopefully next year the weather will be back to normal.