GRAY WEATHER DOESN'T STOP MIRAMAR AIRSHOW
<![if !supportEmptyParas]> <![endif]>
STORY & PHOTOS BY FRANK LOREY III
<![if !supportEmptyParas]> <![endif]>
The 2006 Miramar Airshow was plagued with gray skies, showers, and wind—but that didn't stop an estimated 700,000 visitors to the Marine Corps Air Station for the four-show, three-day event.  Despite cutbacks, there were still plenty of performers during the flying portion, and many new aircraft on static display—at least new to the Miramar Airshow.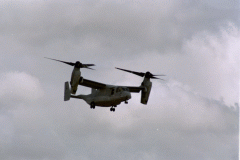 The big thrill this year was the public debut of the MV-22 Osprey, the controversial tilt-wing transport aircraft.  The crowd was absolutely in awe during the fly-bys of two Ospreys.  The aircraft has a vertical take-off and landing capability (VTOL), and once in flight the wings tilt to a normal position for regular flight.  The rotors are huge at 38 feet, sometimes noisy but with a quiet mode that is incredible.  The F/A-22 Raptor was scheduled only for a brief appearance on Saturday, much to the disappointment of airshow fans.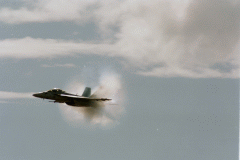 A performance by the newer F/A-18 Super Hornet also left the crowd in amazement.  The control during extreme maneuvers was reminiscent of the A-10 "Warthog"—very nimble.  It was hard to believe that such a large jet fighter could do the tight turns and rapid changes in direction.
            Civilian performers such as Bill Reesman in the "Red Bull" Mig-17, John Collver in his World War II-vintage AT-6 Texan, Sean Tucker in the "Oracle Challenger", and the Patriots team of four L-39 Albatrosses were morning highlights.  In the afternoon, it was the Marine Air-Ground Task Force (MAGTF) demonstration; a "Heritage" flight featuring a Korean-War vintage FJ-4 Fury, F-8F Bearcat, and F/A-18 Hornet; and the Blue Angels celebrating their 60th anniversary.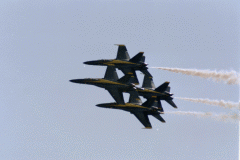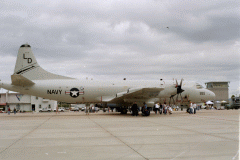 Static displays included the P-3C Orion intelligence aircraft (first time at Miramar); and along the same theme an unusual RC-12N King Air intelligence-gathering plane direct from Iraq.  The King Air was built in 1991, and flown by Capt. Chad Mihalek on 5-hours missions in support of our ground troops.  It has quite an unusual array of antennas.  Several older and smaller military transports were there including a T-39N flown to the show by 2ndLt. Staffer from Pensacola, Florida.  There are only 20 of these 1960's era transports left flying.  Also on display were a T-44C and UC-12F, still in service but also gaining time on a rapid basis.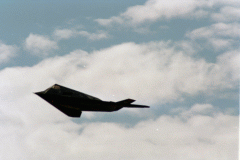 The B-1B Lancer drew crowds to peek into the cockpit.  Several aircraft were open for tours.  The F-117 Nighthawk still drew plenty of looks, both in the air and on the ground.  It won't be flying for much longer, as it is set to be phased out by the end of the decade, replaced by the F-22.  Overall, it was another great show by the Marines, and here's hoping for good weather next year!