MIRAMAR SHOW GOES ON DESPITE ACCIDENT
<![if !supportEmptyParas]> <![endif]>
STORY AND PHOTOS BY FRANK LOREY III
<![if !supportEmptyParas]> <![endif]>
            The opening of the 2004 Miramar Airshow turned tragic as one of the first civilian performers died while failing to pull out of a dive.  The accident occurred right in front of the grandstands, and caused a morning-long delay before the show could resume.  The crash site was blocked by emergency vehicles for hours while an investigation was conducted.  The schedule for the rest of the Friday show was jumbled, with many acts cancelled or shortened.
            The Saturday and Sunday shows, including the evening performance on Saturday, went on as usual to the delight of the crowd.  The rest of the show was dedicated to the family of  Sean deRosier, the pilot who died in his custom homebuilt SkyRocker plane.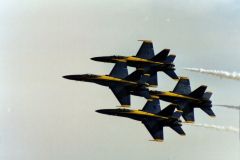 The Blue Angels are always the featured performance of the show, and they actually flew twice on Friday—the solo pilots practicing after the accident, and the regular performance concluding the day's events.  The always impressive MAGTF (Marine Air-Ground Task Force) demonstration was an opportunity to view the work of the Marine's AV-8B Harrier, Huey helicopter, and Cobra gunship in action.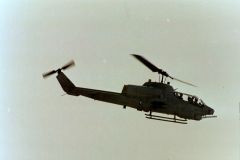 An Air Force F-16 Fighting Falcon put on an impressive display; and two World War II-vintage P-51 Mustangs were part of the Heritage flight.  The Mustangs are owned by Chuck Hall and former astronaut Bill Anders and are based out of Ramona, CA.
            A first for the show was a flight of two Israeli KFIR's.  The jets just happened to be in the Southern California area for some joint wargames being held off the coast, and provided several fly-bys as well as the drone parachute-assisted landings.  For most airshow guests, it was the first and probably only opportunity to see these foreign aircraft in flight.
            The B1B Lancer was back in impressive form, doing several passes in front of the crowd.  On the ground, static displays included the Beech AT-18, B-17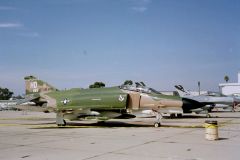 Flying Fortress, B-25 Mitchell, and C-47 Dakota of World War II vintage; an increasingly-rare F-4 Phantom (many of which are now serving as target drones); and one of the formerly-secret stealth reconnaisance drones now in front-line service.  The drone looks like a miniature version of the B-2 Spirit bomber.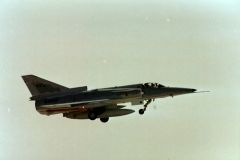 The Marines put on quite a professional display, and the Miramar show is billed as the world's largest military airshow.  Accidents are quite rare, and it is thought that this was only the second to ever happen in over 50 years of the show's history.  While the Friday crowd was very subdued by the situation, the rest of the show was as loudly-appreciated as always.  The base is home to two dozen active Marine units, as well as the Flying Leatherneck Aviation Museum.
Click on image for larger view.

All images on this page are Copyright 2002-2005 Frank Lorrey and PilotAge.com
All Rights Reserved