L-29's--JUST OUT FOR SOME FUN
<![if !supportEmptyParas]> <![endif]>
Story and Photos by Frank Lorey
<![if !supportEmptyParas]> <![endif]>
            You show up at one of the numerous smaller airshows in the Western United States, and all of a sudden to your surprise you see and hear four jets in formation coming at you.  Is it A) the Navy Blue Angels; B) the Air Force Thunderbirds; or C) the Thunder Delphins?  If you have recently been to airshows in El Cajon, Ramona, or Hemet you know the answer is "C".
            The Thunder Delphins jet demonstration team is actually comprised of a total of seven planes and eight pilots flying the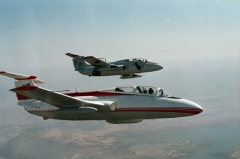 Czech-built L-29 Delphin trainer that was common in Eastern Block countries in the mid-1960's and well into the 1980's.  The team leader is Doug Gilliss, and the aircraft are frequently based out of Gillespie Field in El Cajon, CA.  Usually four planes go to perform at the airshows.
            Production of the L-29 started in 1963, and a total of at least 3,600 were produced, with 3,000 of those going to the Soviet Air Force.  Other countries to fly the Delphin were Czechoslovakia, Iraq, Bulgaria, Egypt, East Germany, Hungary, Nigeria, Rumania, Syria, Uganda, Indonesia, and Guinea.  Most of the aircraft now showing up in the United States are ex-Soviet models. 
            The L-29 Delphin started out as an advanced trainer, but as the L-39 was phased in beginning in 1975 it became the standard beginning and intermediate jet trainer.  Top speed is listed at 407 MPH, and it can climb at almost half a mile per minute.  It cruises at 286 MPH and has a ceiling of 36,000 feet with its pressurized cockpit. By the end of production in 1974, a couple of specialized versions were built.  The L-29A was the Delphin Akrobat, a single-seat model specially built for airshow performances;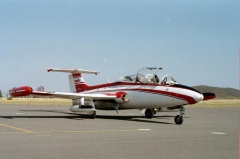 and the L-29R was a counter-insurgency attack/recon. version.
            Wingspan is almost 34 feet, and the Delphin is a little over 35 feet in length.  It has an internal range of 398 miles, and with drop tanks can reach as far as 555 miles.  The production models also had two wing hard points for external weapons stores.
            There were several reasons for selecting the Delphin, according to Gilliss--"The 29's make more noise, they out-turn the L-39, they are extremely reliable and durable, and the parts and maintenance are unbelievable," he remarked, adding that "the annual is less than a Bonanza's, and the engine is cheaper than a Cessna's."  There are three or four warehouses full of parts in the United States, and the engine is extremely simple to maintain.  Those reasons are exactly why the Delphin beat out designs from the other Eastern Block countries to become the mainstay trainer of the Soviets and other countries.
            Together, the group of eight Thunder Delphins pilots has over 30,000 combined hours of flight time, with a wide variety of experience.  They have been to airshows as far away as Reno and Tucson, and really don't plan to go much further away.  As Gilliss commented, the Delphins "have an easy 300-400 mile range."  The four main pilots are Gilliss, Doug Medore, Cas Casillas, and Don Goodin.  Four others substitute at times.
            Gilliss is a former USAF pilot who flew the F-5 Tigershark at the end of the Vietnam war.  He also had experience in the C-123 Provider and T-38 trainer.  He has flown more than 40 different types of aircraft in a career spanning over 35 years and 5000 flight hours, and holds commercial, flight instructor, and airline transport pilot ratings.  Doug has become the checkout pilot in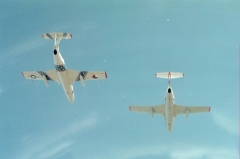 the L-29.
            Of all the aircraft Gilliss has flown, he rated the F-5 as the most fun, but said it is far too expensive while saying that for jets, "the L-29 is like a VW Bug.  It glides real nice, works like a T-33--in fact it has the same profile once you take off and get it moving."  About the only somewhat negative comment he made is that many people don't think the Delphin is very glamorous.
            Doug Medore is a former Navy pilot who graduated from Top Gun and then went back as an adversary pilot to simulate Mig attacks, flying the F-5E in that role.  During his Navy career he flew the F/A-18 Hornet off aircraft carriers, and has accumulated over 6000 flight hours.  Medore now flies 747's and 757's for UPS, and has airshow experience in Steermans, T-6 Texans, and T-28 Trojans.
            "Cas" Casillas has been flying the L-29 for about a year now.  He is a retired USAF Colonel, and had a career spanning three decades and about every fighter from the F-86 Sabrejet to the F-15 Eagle, basically the whole age of  USAF jets.  Casillas flew 105 missions in Vietnam in the F-105 "Thud", and is retired now.  His military career of over 5000 hours in jet fighters also brought him the Silver Star, Distinguished Flying Cross, and Air Medal with 16 clusters.
            Don Goodin is the fourth regular pilot, and has the most overall experience at more than 12,000 hours.  He is also retired USAF, and was a Lt. Colonel who flew A-37 close air support missions in Vietnam. Goodin said he loved flying the A-37, but thinks the L-29 is even more fun.  He also regularly flies the T-34 Mentor, as do the rest of the Thunder Delphins team members.
            While it is still possible to purchase an L-29 Delphin for as little as $18-25,000 the more reasonable amount for one in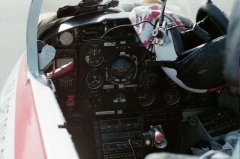 flying condition would be in the $60-100,000 range, as Gilliss put it--"still very reasonable for what you get."  The low-priced Delphins are usually found in Europe, and are in crates completely disassembled.  Some have worn-out engines and other problems that you can't see through the crates.  It also costs about $9000 for shipping to the U.S. 
            The jets have to be certified by the ATF, which means the ejection seat has to be made safe or completely disarmed.  It also must have no weapons, gun sights, cameras, etc. to pass with the Defense Department.  Most people are adding paint, radios, GPS, beacons, and transponders which brings the price tag up to nearly $100,000.  With all of that done, you have a jet fighter capable of over 400 MPH that can withstand 8G's and land at a 4,000 foot airstrip.  There certainly aren't many aircraft that can match those capabilities at that price.  The rest of the aircraft is basically stock for the former Soviet Union days, including the instrumentation.
            Gilliss is willing to help would-be purchasers, and is always available to give advice.  He recommends talking with a current L-29 owner, and joining the Classic Jet Aircraft Association (CJAA).  He cautions that "the LOA is not typically given to low-time, single-engine, light aircraft pilots."  He can be reached at dgmail@adnc.com.
            "When all is said and done, these jets are fun, fun, fun," he remarked.  Gilliss noted they are "a casual team, not professional, and we probably lose money each week.  We just do it to have fun together."  After flying with the Thunder Delphins, I can attest that the fun is quite contagious.