From: AOPA_EPILOT@AOPA.ORG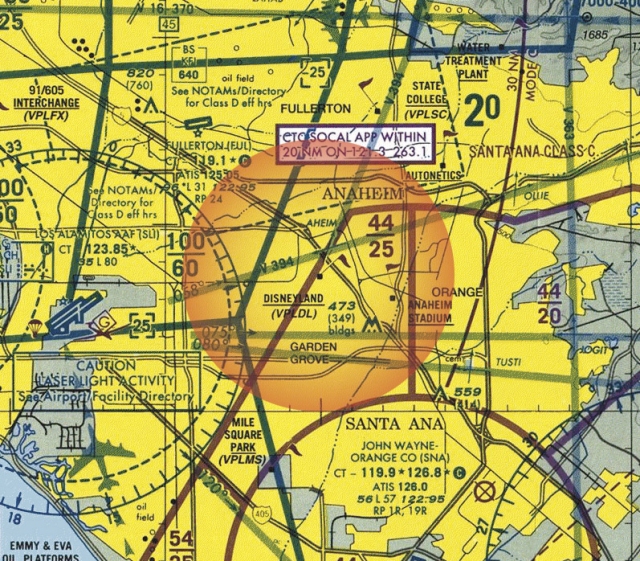 Subject: AOPA ePilot -- Special Airspace Update
To: PILOTAGE_SUBSCRIBERS@PILOTAGE.COM
Date: Tue, 18 Mar 2003 17:37:24 -0500


-----------------------------------------------------------------
AOPA ePilot Special Airspace Bulletin March 18, 2003
-----------------------------------------------------------------


A special notice to AOPA members in the Anaheim, California, area

==> ATTENTION PILOTS <==


FAA ISSUES FLIGHT RESTRICTION NOTAM OVER DISNEYLAND
AOPA is sending you this message to advise you that the FAA has established a 3-nautical-mile flight restriction around the Disneyland theme park. Aircraft are now prohibited below 3,000 feet agl within the restriction area. Because of elevated concerns for terrorist activities, the restriction is effective until further notice. The full text of the notam follows. Click here for large image.

3/2123 CA. FLIGHT RESTRICTIONS ANAHEIM, CA. EFFECTIVE 0303182000
UTC (MARCH 18 AT 1200 LOCAL) UNTIL FURTHER NOTICE. PURSUANT TO
RESTRICTIONS DETAILED IN SECTION 352 OF PUBLIC LAW 108-7, AND 14
CFR SECTION 99.7, SPECIAL SECURITY INSTRUCTIONS. AIRCRAFT FLIGHT
OPERATIONS ARE PROHIBITED AT AND BELOW 3,000 FEET AGL, WITHIN A 3
NAUTICAL MILE RADIUS OF THE DISNEYLAND THEME PARK (334805N/1175517W
OR THE SEAL BEACH /SLI/ 067 DEGREE RADIAL AT 6.7 NAUTICAL MILES.
THIS RESTRICTION DOES NOT APPLY TO (A) THOSE AIRCRAFT AUTHORIZED
BY ATC FOR OPERATIONAL OR SAFETY PURPOSES, INCLUDING AIRCRAFT
ARRIVING OR DEPARTING FROM AN AIRPORT USING STANDARD AIR TRAFFIC
PROCEDURES; (B) DEPARTMENT OF DEFENSE, LAW ENFORCEMENT, OR
AEROMEDICAL FLIGHT OPERATIONS THAT ARE IN CONTACT WITH ATC. THOSE
WHO MEET ANY OF THE FOLLOWING CRITERIA MAY APPLY FOR A WAIVER TO
THESE RESTRICTIONS: (A) FOR OPERATIONAL PURPOSES OF THE VENUE
INCLUDING THE TRANSPORTATION OF EQUIPMENT OR OFFICIALS OF THE
GOVERNING BODY; (B) FOR SAFETY AND SECURITY PURPOSES OF THE
VENUE. INFORMATION REGARDING WAIVER APPLICATIONS CAN BE OBTAINED
FROM THE FAA WEBSITE AT ( http://www1.faa.gov/ats/ata/waiver/ ),
OR BY CALLING 571-227-1322.


See AOPA Online for a graphic
( http://www.aopa.org/images/whatsnew/newsitems/2003/notams/3-2123.jpg ).


Because airspace restrictions can change, AOPA strongly advises
pilots to contact flight service for the latest information prior
to any flight. Check AOPA Online ( http://www.aopa.org ) for
updates on the airspace situation.